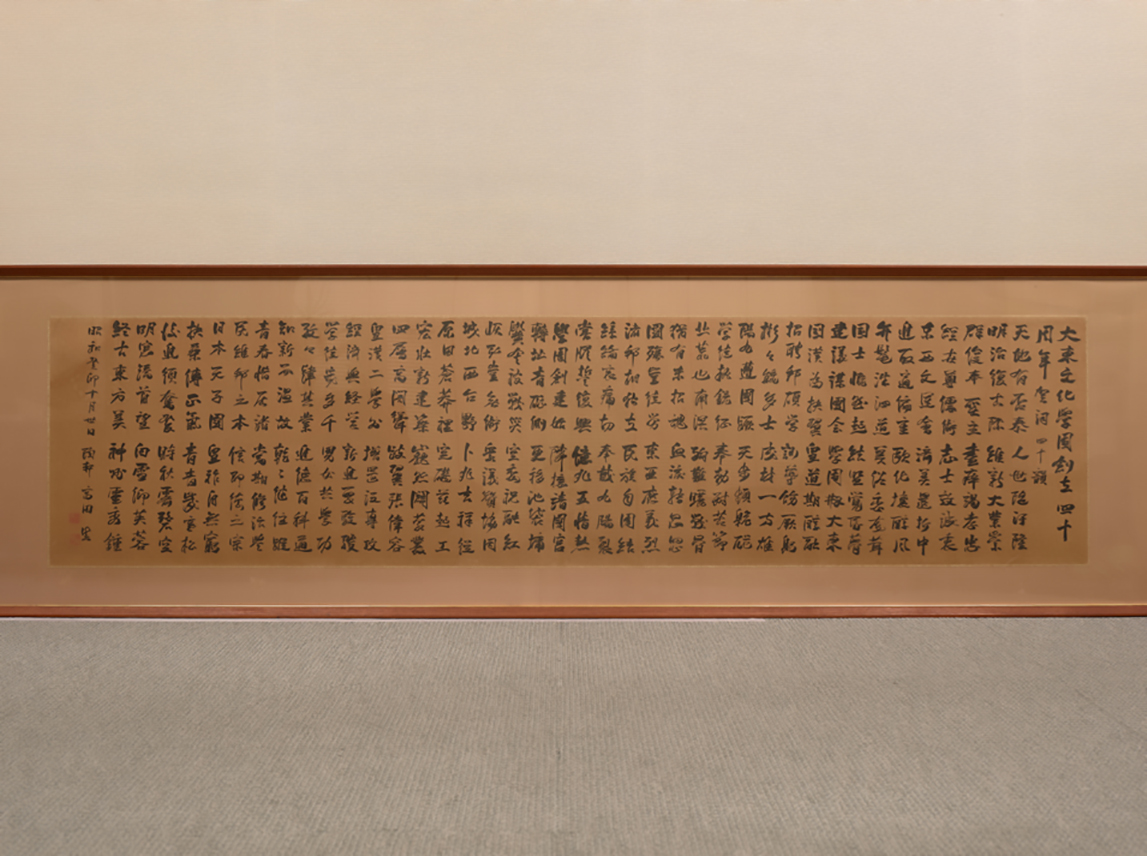 "Congratulatory Poem on the University's 40th Anniversary" by Takada Shinji (1893–1975)
Harada Taneshige (then a lecturer at the Department of Chinese Literature) wrote about this poem in the university newspaper Daito Bunka, no. 416, May 15, 1990, so the text is quoted below. At the time of publication, the old-style Chinese characters of the original poem had already been revised to new-style characters. The big frame hangs on the wall of the Managing Director's Office (currently used by the Vice-Principal) on the 2nd floor of Building No. 2.
Paper: H60 x W260 cm Frame: H85 x W300 cm
A big framed work of calligraphy hangs in the large conference room on the 4th floor of the university's 50th Anniversary Hall. This is a congratulatory poem that Professor Takada Shinji composed in October 1963, the 40th anniversary of the university's founding. Professor Takada had been a professor at Tokyo Imperial University, specializing in Chinese philosophy, but he also excelled in Chinese poetry under the pen-name Token. He was appointed as professor at this university's Department of Chinese Literature in April 1956, and retired in March 1966.

This celebratory poem has 40 rhymes with 5 Chinese characters per verse, and since Chinese poems rhyme on even numbers, it is a long poem of 80 verses and 400 characters. The rhyme switches three times, which is called rhyme change, and the parts using the same rhymes are called kai, which correspond to paragraphs. Since it is an ancient-style poem, it includes difficult words with precedents. The calligraphy is also by Professor Takada's own hand.

The poem starts with the origins of the founding of Daito Bunka and goes on to talk about the many talented people that the university sent out into the world, the struggles of the students and the school building that burned down during the war, and the construction of a new school building in Nishidai. It concludes with how the university continued to develop through the creation of new courses.

There is however one misunderstanding of Professor Takada's in there. It is true that there was only one course, Chinese studies, when the university was located in Kudan, but this became three, including East Asian politics and economics, with the move to Ikebukuro. Since the building burned down during the war, they moved to a provisional building in Aoto, built another provisional one in Ikebukuro, and then moved to Nishidai (present-day Takashimadaira). I want to clarify this since the poem says that the university moved from Kudan to Aoto and then to Ikebukuro.
More(
257KB)