We have selected Imai Ryosetsu's calligraphic work "Way" as the symbolic image of our research branding project.
Imai Ryosetsu is a prominent calligrapher and former professor at Daito Bunka University.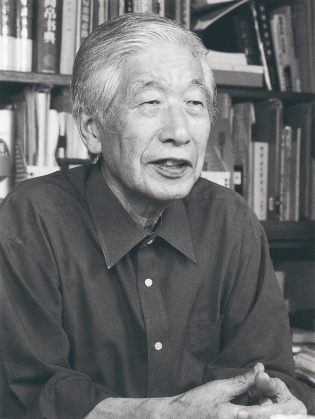 Imai Ryosetsu, Calligrapher and Former Professor at Daito Bunka University
Duration of Working at Daito Bunka University
1987–1991
Career
1922

Born in Nara Prefecture.
1940

Studies calligraphy under Nakatani Fuso
1948

Studies calligraphy under Tsujimoto Shiyu
1967

Displays his work at the Exhibition of 20 Modern Calligraphers (subsequently participates on 24 occasions)
1970

Produces a large-scale work of calligraphy on the wall in a multipurpose hall at the Japan World Exposition in Osaka.
1971

Professor at Tokyo University of Education (–1976)
1977

Professor at University of Tsukuba (–1986)
1987

Professor at Daito Bunka University (–1991)
Director at the Institute for Calligraphy (–1989)
2011

Passes away at the age of 88
Main Awards
1952

Nara Prefecture Culture Award
1982

Nitten Exhibition Minister of Education Award
1987

The Imperial Prize and the Japan Art Academy Prize
1994

Third Order of the Sacred Treasure
Main Commissioned Works of Calligraphy
Signboard for the Ministry of Education, Culture, Sports, Science, and Technology
Framed sign of the Suzaku Gate at the Heijo Palace Remains
Titles of the following films:

1985

Ran by Kurosawa Akira

1990

Dreams by Kurosawa Akira

1993

Madadayo by Kurosawa Akira

2002

Letter from the Mountains by Koizumi Takashi